WILDFIRE EMERGENCY
Zabenno was contacted by a Helicopter company to create a 3D Animation to simulate their new services for wildfire emergencies.
Production Process
From the brief given by the client, we were able to start our research to develop a story and animation style. We need to determine every asset in the animation by creating a storyboard.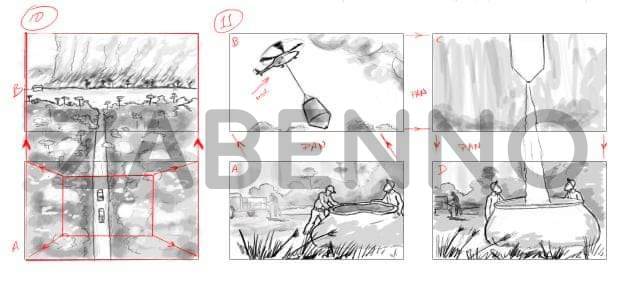 We then create the 3D models from scratch.
To give the models some movement, we insert riggings and layout the whole animation.
Challenges
During our research phase, there was not much reference available online regarding the product 'Collar Dam' which is used to extinguish fire in wildfire situation where there are water shortages. Our team had to use the limited reference and imagination to create the animation as real as possible to an actual simulation.
What the client receives (per video)
30 – second 3D Animation
Custom music composition
Team
Production Company – Zabenno
Producer – Syra Adinda
VFX Supervisor – Ale
Music Composer – Martinus